Kamasatti, on 23 March 2011 - 11:50 AM, said:
It would seem that the "Planet X" is in fact a red dwarf star:
G1.9 Confirmed a Binary Red Dwarf Star
This star is also mentioned in Islamic tradition, for example:
"A star with a luminous tail will rise from the east before the Mahdi emerges."
(Muhammad ibn `Abd al-Rasul Barzanji, Al-Isha`ah li Ashrat as-Sa`ah, p. 200)
and some believe that Surah At-Tariq (i.e. Chapter 86) in the Qur'an refers to it:
By the heaven, and At-Tariq (the night-comer); And what will make you to know what At-Tariq (night-comer) is? (It is) the star of piercing brightness; There is no human being but has a protector over him (or her) (i.e. angels incharge of each human being guarding him, writing his good and bad deeds, etc.) So let man see from what he is created! He is created from a water gushing forth Proceeding from between the back-bone and the ribs, Verily, (Allah) is Able to bring him back (to life)! The Day when all the secrets will be examined (as to their truth). Then will (man) have no power, nor any helper. By the sky (having rain clouds) which gives rain, again and again. And the earth which splits (with the growth of trees and plants), Verily! This (the Quran) is the Word that separates (the truth from falsehood). And it is not a thing for amusement. Verily, they are but plotting a plot (against you O Muhammad). And I (too) am planning a plan. So give a respite to the disbelievers. Deal you gently with them for a while.
(Qur'an 86: Surah At-Tariq)
Thanks for the article and the references. It would seem that this 'Planet X' has been known by the ancients for some time now.
*The Chinese called it The red dragon
* "The Destroyer" in the Old Testament of the Bible
* "The Destroyer" in ancient writings of the Egyptians
* "Wormwood" in the book of Revelation
* "Nibiru" in the writings of the Sumerians and Babylonians
* "Marduk" in the Babylonian religion
* "Phateon" in the Greek literature
* "Nemesis" in the Greek mythology
* "Apollyon" in Babylonian mythology
* "Apollo" in Greek mythology
* "G1.9" as a working title by NASA
* "Eris", the name given by NASA to the newly discovered 10th planet which could also be an attempt to move your attention away from the real thing
* "Planet X" by various astronomers and authors
* "Nemesis" as a nickname by NASA scientist
* "The Planet of the Crossing" in ancient writings
* "Brown Dwarf" is the term that classifies the object in its astrophysical nature
There is much in a name - the idea is that it is following the Brown Dwarf or Dark Star in its orbit is also possible.
Andy Lloyd discusses this on his website
DarkStar1UK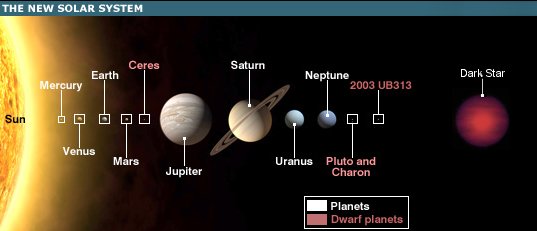 "I believe that the Dark Star plays an important part in our own history; because this object emits heat, and a small amount of dim light. It warms and nurtures its own planetary system. That system is capable of supporting complex life, right on our cosmic doorstep. This is what makes the Dark Star Theory so relevant to anyone studying ancient mysteries. It creates a local dark star system where visitors to our planet came from in the distant past, and where, in a way, we may have come from too. These ideas of cosmic visitors from Nibiru are derived from the writings of the late Zecharia Sitchin, but find credibility through the Dark Star Theory. This sub-brown dwarf is part of a much bigger picture - one involving a whole new paradigm."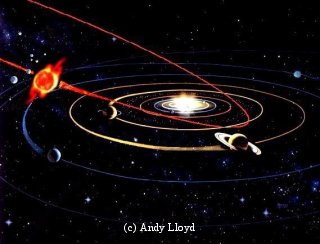 Nibiru called the"Planet of the Crossing" is represented in ancient history by a cross and a winged disk reflecting the supreme deity in the Sumerian and Babylonian temples. Nibiru is also the god of 50 names and king of gods.
Planet Nibiru is also known as Marduk and Planet X. It is described by some as supposedly the twelfth member in the solar system's family of planets which includes the 10 planets, the sun, and the moon.
According to Zecharia Sitchin, Nibiru has an orbit around the sun of 3,600 Earth years. To understand Sitchin, he is one of the handfuls of people today who can translate the ancient language of Sumerians, Egyptians and Hebrews along with other modern languages. He has devoted his life on studying ancient civilizations and translating ancient texts, cuneiforms and clay tablets.
Nibiru is a planet that orbits our sun every 3600 years. It got its name from being an elusive planet. It is suggested that current astronomy points to the possibility that Nibiru is a brown dwarf or dark star rather than a planet. This has the implication that our solar system, like the majority in the known universe, is a binary star system; in other words, Earth has two suns with Nibiru being the second and less bright.
The coolest star in the sky! Newly discovered 'Brown Dwarf' has same temperature as a cup of tea
By Julian Gavaghan
Scientists were this week amazed after the discovery of space's dimmest and coldest star - with a temperature the same as a cup of tea.
The two brown dwarf stars stunned astronomers when they were spotted through a set of three high-powered telescopes.
Both of them are about the same size as Jupiter but the smaller, more distant, star has a surface temperature of around 100 degrees.
The incredibly cool temperature - the same as a freshly boiled cup of tea - makes it the coldest one in the night sky.
At last: The coldest ever brown dwarf, right, was found hiding beside a brighter star 75m light years away
A warmer and brighter companion had originally obscured the brown dwarf which has been named CFBDSIR J1458+1013B.
But with new, more powerful telescopes, astronomers were able to see the star, which is almost five times dimmer and 130 degrees cooler than the previous record.
The brown dwarf may represent a new class of cosmic objects straddling the division between stars and planets.
'We were very excited to see that this object had such a low temperature, but we couldn't have guessed that it would turn out to be a double system and have an even more interesting, even colder component,' said star-gazer Philippe Delorme of the Institut de planétologie et d'astrophysique de Grenoble which studied the brown dwarf.
Brown dwarfs are balls of warm gas that lack the mass necessary to fuse hydrogen at their core.
Stars, such as their cousins, white dwarfs, can do this and consequently can burn for more than 4.5billion years at a temperature of 5,500C.
What separates brown dwarfs from huge planets is not yet defined. However, planets are generally not big enough to generate their own heat by fusing deuterium.
The brown dwarf may be the first evidence of a new type of star, called a 'Y spectral' object, that more closely resembles a planet.
CFBDSIR J1458+1013B is bluer than is typical of brown dwarf, which are usually have a varied red or brownish hue.
It was first identified by astronomers at the Keck II and Canada-France-Hawaii telescopes, located near the summit of Hawaii's Mauna Kea mountain.
Researchers at the European Southern Observatory's Very Large Telescope measured its ultra-low temperature.
However, CFBDSIR J1458+1013B's record-holding days may already be numbered as fellow satellite, the Spitzer Space Telescope, recently spotted two similar stars await precise temperature measurements.
'At such temperatures we expect the brown dwarf to have properties that are different from previously known brown dwarfs and much closer to those of giant exoplanets,' astronomer Michael Liu of the University of Hawaii told Wired.com
'It could even have water clouds in its atmosphere.'
Read more:
http://www.dailymail...l#ixzz1Hfjn1YXB
Fascinating stuff. Wouldn't you agree?